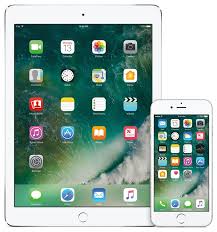 This group is for owners (or wannaby owners) of iPads or iPhones. We meet every month on the 3rd Friday, 2.30pm – 4.30pm.
Bring your iPad or iPhone and learn from others how to operate it. Contact Colin for more information.
---
The iPad
The iPad is a tablet computer developed by Apple. It is smaller than a typical laptop, but significantly larger than the average smartphone. The iPad does not come with a separate keyboard, although one may be purchased. Instead, a keyboard is incorporated as part of the touchscreen interface used to control the device.
The iPad runs Apple's iOS operating system. This allows the iPad to run third party apps, which can downloaded from Apple's App Store. While some apps designed for the iPhone can also be installed and run on the iPad, many iOS apps are developed specifically for the iPad.
---
The iPhone
The iPhone is a smartphone made by Apple that combines an iPod, a tablet PC, a digital camera and a cellular phone. The device includes Internet browsing and networking capabilities. The iPhone has a sleek, minimalist design, and differs from other smartphones in its lack of buttons. Most operations on the iPhone are performed using the touch screen display.
---
Apps for iPhone and iPad



Apart from the operation of iPhone and iPad a focus will be on apps. App is an abbreviated form of the word "application." An application is a software program that is designed to perform a specific function on the phone or tablet directly for the user or, in some cases, for another application program.
---
iPPIG Reports
2019
2018
2017
November October September August