Where is SeniorNet Motueka ?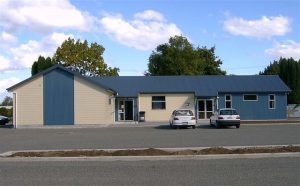 SeniorNet Motueka is at 42 Pah Street, Motueka. Click here for map.
Our postal address is PO Box 297, Motueka 7143. Email contact here.
The History of SeniorNet Motueka
The club was first formed and incorporated as a charity in 1998. Initially we used leased rooms in the old Motueka hospital building and other premises. Then in 2005, after a period of fundraising and much work by members at that time, SeniorNet Motueka moved into its own brand new building. Our club is unique in New Zealand SeniorNet in owning its own building, as well as a suite of modern computers. Current membership numbers around 250.
Activities of SeniorNet Motueka
A wide range of learning sessions is offered, from introductory courses on using computers (PCs, Macs or tablets), to managing files/folders and photos on your device, online banking, smart TVs, using social media (FaceBook, WhatsApp, Instagram), YouTube or email. Also available are sessions on subjects such as: editing your photos, making photobooks, shopping online, storing material in the "cloud",  capturing music files, understanding spreadsheets or desktop publishing. There are a number of active special interest groups on topics such as digital photography, genealogy, Mac, and iPads/iPhones. These groups meet monthly. Club meetings with guest speakers are held monthly, as well as drop in "Help and Support" sessions every Saturday 2-4pm, where members receive up to 30 minutes one-on-one help for $5..
The SeniorNet Federation
SeniorNet Motueka is a member of the Federation of NZ SeniorNet Societies Inc, and through this relationship, enjoys access to teaching resources from other SeniorNet clubs and secures representation to government departments. The Federation also has agreements with a number of businesses where SeniorNet members can obtain discounts.
What if I want to become a member?
Visit our membership page or contact the membership secretary. Current committee members are listed on our committee page.