President's Report May
Hi all,
It was disappointing to see so few at our last club meeting, for those who never made it, it was a very interesting topic that Peter gave us even I learnt something from it.
On a happier note, the committee decided to nominate Malcolm Garrett as a life member so both him and Norma were presented with a framed certificate for life membership. What an honour it was to present these two with it too. These two people have been active members for many years.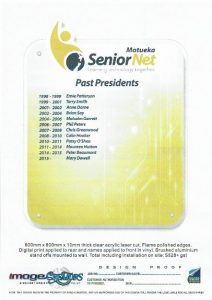 Another thing that we have done is had a past presidents board made up, it looks great up on the wall. We even had an unveiling for it. Maureen did the honours for this. Thanks to Creative Images for the great job they have done.
As I pointed out to the members present I am not standing again this AGM so you need to look for a new president, this is not a hard position, it is very interesting actually, being able to delegate has it's rewards and with a good committee, I am prepared to remain on committee for the time being.
Have you all seen the vouchers for Noel Leeming, if you do make purchases please make sure you ask for the SeniorNet discount as then Seniornet get something as well, very important.
I hope you are looking at the website for Motueka SeniorNet, there is a lot of information there for all, plus the course notes are there as well. Bernhard has done a wonderful job here.
We now have a membership of 280. Out of this we only get a small gathering at the members monthly meeting. This is very disappointing especially when we have a guest speaker. Please consider coming along. We would love to see as many as possible at our next meeting.
There are a number of membership cards that need to be picked up. You need these to show you are a paid up member when asking for discounts, so please pick yours up.
Library- If you take a book or magazine out please return it on the due date, as others would like to borrow them also, and if you get a reminder please adhere to it not ignore it.
We are bringing back the how to, so next month Clive is going to show us a trick on how to make make your own touch screen pencil inexpensively.
Regards Mary
President.